Lessons Learned on a Cruise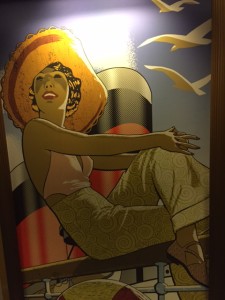 Pace yourself with the food and alcohol intake. Seriously.
The pillows are actually very comfortable.
There are some really funny cruise ship comedians!
Don't pay to have internet access.
You will gain a new perspective on your life.
I just got back from my first cruise and loved.every.minute.of.it. That could have something to do with the fact that it was my honeymoon, but even so. Loved it.
The endless buffet and sit-down dinners (most of the food was surprisingly good), the cocktails, the sun and the wind, the warm saltwater pool, the glass elevators going up and down seven stories, the hallway artwork, the towel animals, the balcony off our room, the soft-but-supportive pillows, the sleeping in until 10:30, the sunsets (obviously we didn't catch the sunrises), the stand-up comedy club, the goofy piano bar, the hot stone couple's massage, the hammocks, the quiet and relaxing adults-only deck of the ship, the underwater sea trek excursion in Grand Cayman, everything about Grand Cayman, shutting off my phone and not going online for the entire 7-day cruise.
On the afternoon of the last day, as I struggled to accept the harsh truth that I would soon be returning to reality, I took a walk by myself around the ship to look for a quiet spot in which to contemplate my life. This was perhaps a tall order for a cruise ship.
But I found a surprisingly unoccupied hammock on the adults-only deck where I listened to the wind while periodically pushing off the floor with my feet to swing myself. As I lay there, I thought about how stress-free the past week had been not having to answer phone calls and texts or look at the calendar or go online to check on things or be on Facebook. I could, if I'd wanted to, but I loved having a good solid week of wireless time.
What could I do to retain that "wireless" feeling after returning home? Being that I want to continue working in my same field (I didn't have a flash of insight about quitting my job and living off the grid), there was nothing to be done about the phone, and I was okay with that. I don't spend nearly as much time on it as other people. But I knew that something about my life had to change if I wanted to take some of the cruise mentality home with me.
I thought about what causes the most stress in my life and how I could alter that. I couldn't eliminate it entirely, but I could take small steps to contain it and make it more manageable. I committed to taking those steps and thought of a simple plan of when and how to do so.
Then I thought about the second-most stressful thing in my life and did the same. And the third. I stopped there because anything more than that would create more stress. Then I dozed in the hammock for a while, hearing the warm, tropical wind and the muffled sounds of people enjoying their last day of the cruise – kids squealing on the waterslide, adults laughing in the hot tubs – all with realities to get back to.
I've been home two weeks now, and it was rough getting back into the swing of things. But I do feel that my contemplative hammock time will prove to be effective. I've enacted some of the small steps I intended to, and although nothing has really changed yet I feel somewhat relieved that I've done that, that I've followed through with my little plan. Sometimes a sense of accomplishment is a stress relief in and of itself.
And I'll go on as many cruises as it takes to figure that out.
[Image credit: cruise ship art in the hallways of Carnival Dream]
---