Confessions of an Adoptive Parent Review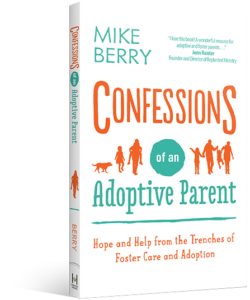 Mike Berry's book delivers all that the subtitle says and more! As a long-term special needs parent, I found it amazingly hopeful with many ideas for setting up a support system to get the help you need. My kids are in their twenties now, doing really well, so technically I am no longer in the trenches (I survived!) and I so wish I'd had this book 15-20 years ago! But having it now is great – I am a behavior consultant and often work with foster and adoptive parents, and this book gave me a huge amount of insight into that realm. I know it will enhance the support I can give to the families I work with. This book is also very spiritual in approach, and it helped to renew my faith, a totally unexpected result, but very wonderful. I highly recommend this book for all special needs families – foster, adoptive, or bio. It will buoy you up, and yes, fill you with hope.
Click here to check it out and receive an exclusive Preorder Bundle!
---