5 Questions for a Sister Contributor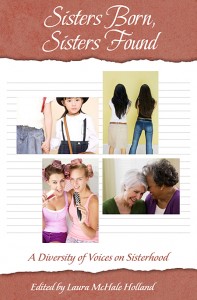 I'm delighted to announce that one of my essays has been published in Sisters Born, Sisters Found, an anthology celebrating sisterhood, edited by Laura McHale Holland. It's a lovely book about the love of sisters, biological or not. I recently had the honor of interviewing one of my fellow contributors, Catharine Bramkamp, a writing coach, professor, and author of many works of fiction, non-fiction, articles, essays, and poetry. For more info about her, please click here.
1. How would you describe the vision for your writing, present and future?
One of the reasons I chose to write Future Girls and focus the story as a YA – and Science Fiction is to influence my readers. I think YA readers think more, and understand more about both their own reality and better – the future, and sometimes the best way to convince a reader that the world needs to change is to offer the worst case scenario.  What I want to demonstrate is you can change the future;   It doesn't take much, a word here, an invention there – and we can create a future that is  best for us, for both women and men. The theme of the book is that if society isn't good for girls – it's not good for anyone.    Oh, and my own future is tied up with Future Girls books:  the second Future Girls – Future Gold, will be out this next fall and I'm writing Future Run.  So the future is all about the future!
2. It sounds like being a Realtor/Broker inspired the Real Estate Diva Mystery Series. What inspired Future Girls?
Future Girls was inspired by a visit to Saudi Arabia. There wasn't much to explore in the small town we were allowed to visit, so we ended up at a shopping mall. In the mall stood women's stores, side by side.   The first store featured long burqas, coats, full head scarves available in every color ranging from black to navy.  The second store looked like Fredrick's of Hollywood on steroids.  Brightly colored bras and negligees vied for attention in the store window, dresses fit for prom or Quinceanera in brilliant orange, purple and pink sequins, frills and tule spilled out of the shop doors and danced along the store front.  The male guide explained that their women liked to look beautiful for their men in the privacy of their home.
Which was bullshit.
Women don't dress for men. Women dress for other women. And that was my trigger. If Saudi women were dressing up and showing off to their women friends in the privacy of their homes, and indeed, far away from the men in the family, what else are they doing in the privacy of their home? If the men of your society have marginalized you so completely that you are only able to communicate with other women, ever, what would you communicate?  What would you plot?  Once the women tired of dressing up, what was next?  In my mind, it was science, time travel, changing their situation in a way that circumvented the men in their lives.  The essential idea is:  if you can't join the club, change all the rules for membership.
3. How do you create balance and engagement in your blog posts with having both fiction and non-fiction readers and clients?
Often the skills that we need to use for fiction, good story telling, also applies to non-fiction writing.  So my advice, and many of the subjects of my blogs, is to encourage my clients both working on fiction or nonfiction, to tell the story.  Tell the story about your business, or your clients (names changed) tell the story of your fictional characters.  It's all about the story, and so the skills we need for fiction and non-fiction are often the same.
4. I love your poem in Sisters Born, Sisters Found. Did you ever "formulate the perfect transparent exit strategy"? What else can you tell us about your sisterly relationship?
I grew up with just one brother, so I have been delighted with my found sisters!
I wrote the poem after my Sorority (Chi Omega) big sister visited me in California, The poem summed up many years of friendship and sisterhood found.  We have been sisters now for longer than we've been wives or mothers.    I treasure this idea and I treasure her!  I sent her a copy of Sisters Born/Sisters Found and she loved it, and was very moved by the poem, it was a tribute to her and how important our found sisters really are.
Our exit strategy is all about eliminate the damn holiday fuss.  It's been hard slog, I got out of decorating a live tree this year, but she didn't!
5. In what way might you find yourself in the "Different Lane"?
I love what you do here on this blog, telling the story of how people find themselves, sometimes quite abruptly, in a different lane.
My lane change has been all about shifting out of the middle lane of self-improvement. I've been clutching the steering wheel, freaked out that the fast lane to the right is passing me by but the slow lane is not acceptable and so I've been traveling here in the middle, not relaxed, and not appreciating my life.  So I'm switching lanes and going on a self-improvement diet.
It's so easy to default to fixing ourselves, taking another class, joining another Master Mind group, attending another self-improvement retreat.  And I thought, I'm switching lanes, I want to move forward without all the drag of self-help, without – dare I say it? – Making myself all that much better.  So I'm moving out of the know-yourself-better-take- this-test lane and into either the fast lane so I can reach my goals faster or maybe even the slow lane so I can enjoy the scenery. I'd let you know how it goes, but if I succeed, I will not have changed a bit!
---
---