Latest Release!
Enough to Go Around, a novel by Tanya Savko
"A nuanced portrait of an American family that is as heartening as it is realistic… A touching tale about life, death, family, and forgiveness." – Kirkus Reviews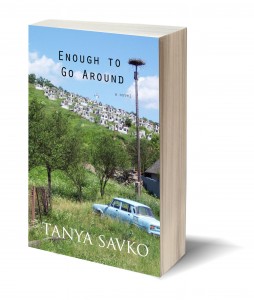 I witnessed the deaths of three of my siblings and the horrible beating of my father by the Austro-Hungarian military. At the age of 17, I traveled alone across a continent and an ocean. I worked in factories and eventually owned my own business. Don't you dare tell me I would be better off in assisted living.
It is 1988, and 79-year-old Anna Sopko is assaulted when her home is broken into. Much to her indignation, her three children think she would be safer in a retirement home. Her older daughter announces that she has advanced-stage ovarian cancer, and on her deathbed, knowing that her mother had regrets about the way she left Czechoslovakia, she tells her to go back before it's too late.
Meanwhile, Anna's niece Danika reveals her illegal status when the toddler she is a nanny for is hit by a car. Anna's son Peter, a lawyer, tries to help Danika while juggling the care of his mother, his own three children, and his wife Theresa, who has untreated bipolar disorder and is nearing psychosis – at his sister's funeral.
Grieving, Anna ends up accompanying her deported niece back to "the old country," where she is faced with resolving the regrets of her youth, including a jilted, lost love and the strange death of her sister over sixty years ago.
*
Enough to Go Around (in paperback) is available for purchase from the following
(please click the links):
To purchase Enough to Go Around as an ebook for only 2.99,
please click on any of the following formats: