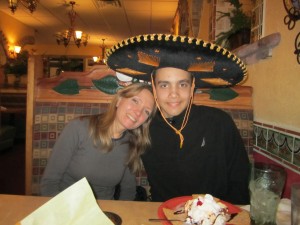 Nigel's 17th Birthday, Oct. 2011
June – graduation – is four months away, along with Nigel's transition to a supported living home. Most days I feel that it can't come soon enough. And I don't know if I would have thought that way ten years ago, so those of you with younger kids, I don't expect you to understand. Those of you with older kids who don't feel that way, I applaud you. And I wish I hadn't been a single parent for fourteen years. (While we're wishing, I wish certain disorders – including my own! – hadn't been a part of that package.)
But there are the days when I feel like June's coming on me like a truck, that I have too much to do to prepare in addition to the daily, weekly grind. So many damned doctor appointments and prescription problems. And guardianship! He's been 18 for over three months and I'm still deciding if I should pursue it. There are some cons to it when your child is moderately functioning that I have to weigh. But if I'm going to do it, I need to start the process soon.
In addition to all of that, we are still touring supported living homes, and just saw our third one last week. So far, the last two have not been as much of a fit as the first one. The second one was a family home that had a toddler (random screeching, even if it's playful, is not going to work) and no internet (for a YouTube junkie, really not going to work). The third one was also a family home with a baby (crying? Yeah, no). Fortunately there are a few others in our vicinity, and we will continue to tour them. In May, we begin the application process.
It's not lost on me that this is sort of like college touring for special needs parents. Instead of colleges, it's supported living homes. But it's the same thing. You take your teenager to look at places where they're going to be living. I'm not sad that it's different. I mean, I may still get to tour colleges with Aidan. But even if that doesn't happen, it's okay. We've always walked a different path, and this is just another different stop along the way. Nigel still wants to go to film school, and maybe in a few years, if he continues to evolve as he always has, that will be possible. And then, by God, we'll go and tour film schools.
Here's the thing: I wish I had the strength to let him stay with me until then. Four years ago, I said that he could. I believed that he would, believed that I could do that for him, assumed that that's how it would be. Like most special needs parents plan to do – until they no longer can. I guess I just reached the "no longer can" part sooner than others. And I need to make peace with that. I need to remind myself that we can only do the best we can with the information we have at the time. I know I did, but I need to have that be enough, to believe it, to feel it in my core. And I'm not there yet.