Grief, the Holidays, and Posthumous Love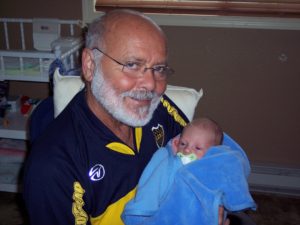 My dad in 2009 with his 3rd grandchild (my nephew)
About four years ago, I was on the phone with my dad and he enthusiastically suggested that he come up for Christmas.  As he lived 700 miles away, he would have flown and then stayed with me. And this would have been fine except for the fact that at the time I hosted the extended family Christmas dinner with my mom and her side of the family. And at the time, my divorced parents were not exactly on good terms. I opted to avoid any drama and encouraged my dad to come up for a visit in the spring.
*
The holidays are supposed to be the hardest time after a loved one is gone. Last year was the first holiday season since my dad's death, and it was very hard. I kept replaying that conversation in my mind, wishing I had thought, To hell with any stupid drama, I haven't had Christmas with my dad in eight years, and we'll make it work. And now another year has gone by and I still feel the same way. Still regretting that I put him off just to avoid potential awkwardness and tension.
Because now he's gone, and I'll never be able to have him here for Christmas again. I'll never get to see him in his red sweater that looked like cashmere but probably wasn't. And his grey tweed pants (he called them slacks) that he wore with it. I'll never hear him singing Nat King Cole Christmas carols again. Never hear him say, "Christ is born!" when he answers the phone and be able to say, "Glorify Him!" in response. Never clink glasses with him again, toasting the day with Cinzano. Or eggnog later by the fire. I'll never again get to hug him when he leaves to go home.
So I go out to my living room and start flipping through my photo albums. I see him on Easters, Christmases, family barbeques. I see him when he came up to visit each of his grandchildren after their births. I see him on trips, or just relaxing with his cat. I see him in the red sweater. I see him clinking glasses. I realize that I had many Christmases with him. And even though in his last ten years on earth he lived 700 miles away from me, I still saw him a lot during that time.
I need to let go of my regret about what would have been his last Christmas in my home. It's something I've struggled with for a while, and I know that many other people have similar regrets, especially around the holidays. We beat ourselves up that we should have done something or shouldn't have. We can't go back. We can't change it. Beating ourselves up isn't going to make any difference! Does it bring them back? Does it make us feel better? Does it help anyone? No. It's not serving any purpose.
This morning, after I had started writing this post, I received an email from my brother. He was thinking about Dad too, and missing him. He forwarded a notice that Dad's favorite Trappist Belgian beer is now being carried at a local wine specialty store and commented on how happy Dad would have been, especially since before he died he had personally requested them to import it. And as much as I know my brother misses our dad, he spent the bulk of the email celebrating him instead of mourning him. I know Dad would prefer it that way. I know he's not standing up there, leaning over a cloud, yelling, "I told you I had cancer! You should have let me come for Christmas that year!"
*
Grief and the holidays are unwelcome bedfellows. But missing our loved ones at certain times of the year (even more than we usually do) is something we can't change, just like we wish we could change whatever it is we beat ourselves up over. I feel certain that for most of those things, we're not being held accountable up there in the sky. We hold our hearts hostage instead of opening them up to all the posthumous love raining down. It's there – every time I hear a Nat King Cole song, clink my glass, or see a red sweater. I'm letting go of the regret and, as always, holding onto the love.
---
---