How We Do Spring Break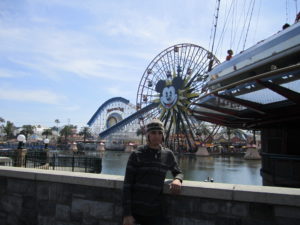 It started out that we were going to take the train – Amtrak – to Los Angeles. Nigel had always wanted to take a train trip, and I thought it would be less expensive than flying. But, probably because we would be traveling during Spring Break, the cost exceeded my budget, and that is how Nigel and I ended up in the last-resort territory of taking the Greyhound – 16 hours on a bus – to visit Aidan and our other family members.
My father had taken the Greyhound from L.A. to southern Oregon twice a month for nine years so that he could spend two weekends a month with his family in Oregon while he completed his 30-year pension plan with the City of Los Angeles. So this trip of Nigel's and mine was sort of in homage to him, a toast to his dedication, if not his tunnel vision. And I don't know how he did it.
The way down was pretty terrible; on the first bus Nigel and I couldn't sit together and he had a crying baby in front of him. Nigel stuck in his ear plugs and stuck it out like a pro. So proud (and relieved). Meanwhile, after about the half-way point and on the second bus (which was babyless), I thought I might be able to catch more than ninety consecutive minutes of sleep, and two hours later I woke up with a horrendous headache due to the angle at which my neck had been tilted in the seat. We made a few more stops and then, as we entered the city I pointed out to Nigel the building his grandfather had worked in for so many years (City Hall East). We had made it.
Nigel spent the first few days with his dad, and I took Aidan with me to stay at my sister's apartment. We visited with my brother, his wife, and her sister and went to our dad's gravesite, which we hadn't been to since the funeral almost two years ago. My brother had brought Dad's favorite imported Belgian beer and we shared the bottle, including the last few drops with Dad, because he would have liked that. Then we went back to my brother's place and watched Sideways for at least the tenth time, and the next day Aidan, my sister, brother and I did the Santa Ynez wine tour, eating lunch in Solvang, stopping at some of the spots in the movie, and checking in at our dad's favorite winery (Andrew Murray). If you would like to have a good laugh over the whole adventure, I highly encourage you to read my sister's blog post. Trust me, she's way funnier than I am, and it's totally worth it.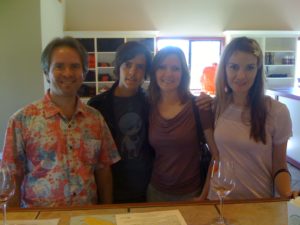 family reunion at Beckman Winery
The next day it was time to switch out the boys and head for Disneyland. Originally I had assumed I would be taking both of my sons, but a few weeks ago Aidan reminded me of his vestibular issues and how not-fun amusements parks are for him. (Hence, the day trip to Solvang and wine country. I know – every 16-year-old's dream. But he actually enjoyed it, because he's 16-going-on-30, and here's something that only people who've gone wine tasting know – unlike bars, kids are allowed inside the tasting rooms, they're just not served any wine.) Moving on.
Big shout-out to my cousin Debbie (thanks, Debbie!) who hooked us up hugely with comped tickets and a massive discount at the Disneyland Hotel, which I've always wanted to stay at. We checked in at the hotel first, knowing that we'd be at the park all day and would be ready to fall into bed at night. Then the three of us – Nigel, my sister, and I – headed to the park.
As the parent of an autistic child, one who previously suffered from severe sensory issues and a lack of understanding, much less ability, to wait in line, we had opted for the special pass on a few occasions when Nigel was younger. It was a godsend, and it's just one of the many things I love about Disney. But I firmly believe in only using it when necessary, and since Nigel's sensory issues have abated immensely in recent years and he is able to wait in line (to a point), we decided to get Fast Passes for the ultra-long lines and see how he did with the standard ones. For some of the Fantasyland rides, like the Matterhorn, Fast Passes were not available, and, it being the first official day of Spring Break for some people, we were in line for over an hour (plus extra time for repairs!). I can describe what happened in three words:
Nigel rocked Disneyland.
Yeah, totally rocked it. Waited patiently in line! No special pass!! Never got lost!!! That last one is pretty huge, too. The three of us moved rather quickly to get from ride to ride (and some of them we did twice, even without Fast Passes), and I was concerned that Nigel would be distracted and get separated. I kept looking back and he was always with us – this from the guy who has a rap sheet for wandering. Rocked it.
But he loves all things Disney, always has. Walt is probably his biggest hero. Nigel wrote a letter to the Disney corp about a movie idea of his and keeps the framed response above his desk. His unwavering dream is to go to film school and work for Disney. And so I think that being at Disneyland is not only fun for him, it's sort of his Mecca.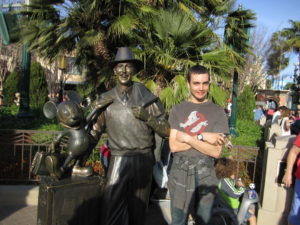 Nigel hanging with his guru
After a lovely night in the Disneyland Hotel (unfortunately with no time for the waterslides), we set off for California Adventure. My cousin met us at the front gate to comp us in again (so grateful), but due to some delays we were too late to get a Fast Pass for the still-new Cars ride, some of the other "e-ticket" rides had Fast Pass times of 5:30 or later, and we were supposed to be meeting my aunt, uncle, and cousins for dinner around 6:00.
I looked at Nigel, assessed the situation. Yesterday he might have been able to handle 80 minutes in line for a single ride, but not today. His reserves were fairly depleted, he was more sensitive to flying insects and noises than he had been yesterday (he has a pretty bad case of apiphobia – I won't make you look it up, it's bees), and without the help of Fast Passes, I didn't want to push his functioning level. For that day, I decided to wave the autism flag (high and proud, I tell you) and get the special pass. And you know what? Nigel still rocked Disneyland. For the second day in a row, he didn't wander or get separated, he followed directions, and he helped our day to go super smoothly. Near the end of the day, finally getting on the Cars ride, I said to him, "Nigel, thank you for being you." And I meant it on so many different levels.
Moral of the story? If you think you need the special pass, get it. And Disney is awesome. So is my cousin. In fact, my whole family is awesome. (Okay, sorry for all the shout-outs.) But seriously, one more moral: avoid Greyhound whenever possible.
---
---