Most Likely to Survive a Zombie Apocalypse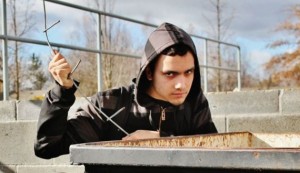 There are plenty of things for which I am proud of my son. But this, by far, is the coolest.
A few days ago Nigel came home with his yearbook, and I began flipping through it, gawking at all the kids I had watched grow up with him during our eleven years in this district. They are adults now, graduating this weekend (more on that next week). Then I got to the superlatives page for the senior class – Most Likely to Succeed, Best Smile, Most Artistic, Most Athletic. There were twenty categories, each listing the boy and girl who had won. And there on the right-hand side was listed a category called "Most Likely to Survive a Zombie Apocalypse," and Nigel and a girl who I remember from his second grade class were pictured.
Yeah. That's my boy.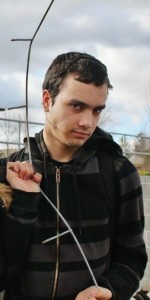 Who better than someone who faces the challenges of autism every day of his life? Who better than one who stares down the demons of epilepsy and battles the reality of bipolar? Who better than someone who has dealt with rampant bullying? Who better than one who powered through years of sensory bombardment and came up with a filtering system so that he could ride his bike on a noisy highway? So that he could be in a loud, echoing gym with his peers? Or even just walk down the hallway between classes like everyone else?
Then again, he's always been kind of a badass.
There is a story that in his early grade school years, some boy had been teasing him and Nigel held him by the shoulders, swung him around, and shoved him away. On the third day of school in seventh grade, two boys ganged up on him. When he verbally tried to defend himself, one of them socked him in the face. The fight was broken up before Nigel could retaliate, but lots of kids saw him take that punch, and he didn't back down. In high school he rode his bike to school, by choice, nearly every day for four years. For someone like him, that took courage and fortitude. During what was probably a manic episode, at lunch time he would climb trees and fences and rode his bike in front of the school on the sidewalk, forcing people to jump out of the way. Not cool, and of course that behavior was reprimanded, but still, it was the kind you might expect from one most likely to survive a zombie apocalypse.
Not only that, he's conveniently memorized all of the original Evil Dead movies. So we're set. It's our variation of "most likely to succeed," and it rocks. I am the proud mother of someone most likely to survive a zombie apocalypse. It's good to have the bases covered.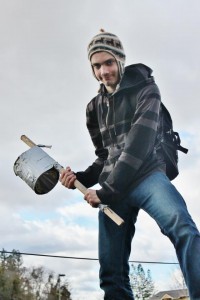 *image credit: Cierra Hoover
---
---