Sisters, Traditions, and All the Good That Comes with Them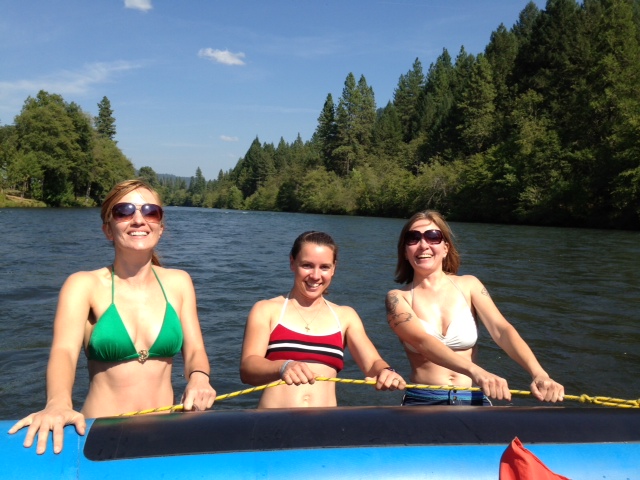 There is a trio of closely grouped volcanic peaks in the Cascade Mountain Range in central Oregon called the Three Sisters. Each one is over ten thousand feet, and they have 15 named glaciers among them. North Sister, the oldest of the three (real-life counterpart: me, the writer and special needs advocate), is the most eroded of the three, with towering rock pinnacles and glaciers. Middle Sister, the next oldest (Macrina, the Forester and wild land firefighter), is the smallest, shaped like a cone that has lost its east side due to glaciations. South Sister, the youngest (Anastasia, the actress/craft food chef in Los Angeles), is the tallest (often due to platform heels) and has a summit crater that holds a small lake known as Teardrop Pool. By some coincidence (for my family, anyway) there is another peak in the group called Little Brother (whose real-life counterpart is our brother, Lex, an actor/theater group manager also in Los Angeles, and who, incidentally, is "little brother" only to me and "big" to the other sisters).
I'm sure you don't come here for geology lessons, but I thought it would be an interesting way to describe my siblings, two of whom I got together with recently for our annual Sisters Rafting Trip. Yes, every summer for at least 12 years the Sisters have taken a 3-hour rafting trip down the Rogue River in southern Oregon. (The Brother, always invited, usually comes up to Oregon at different times of the year, and has never made it on the annual rafting trip. However, since this year we took pictures of how much fun we have, he seems motivated to join us for future trips.)
The Rogue flows about 215 miles in a westward direction from the Cascades to the Pacific (sorry, more geology). I would venture to guess that it's one of the colder rivers in Oregon, and I've been in several of them. And parts of the Rogue are quite wild, which make it one of the original eight rivers named in the National Wild and Scenic Rivers Act of 1968. Parts of The River Wild were filmed on it. Almost every year people die on it.
The Sisters don't raft those parts. No, we raft the 3-4 mile stretch that is affectionately known as "The Booze Cruise." We laugh that there might be one Class 2 rapid on that part. The wettest you get (unless you voluntarily get in or someone pushes you off the side of the raft, where you had been innocently lying in the sun, unsuspecting) is when your teenage son or one of his friends decides to start a water war with neighboring rafters and begins exchanging fire using the 3-foot-long water gun tubes. And that's when you lean over to the sister nearest to you and say, Next time we take that kid rafting, he's going in his own tahiti.
I probably don't need to explain this, but it's called The Booze Cruise because that part of the river is so mellow that many people would pack ice chests (these are big rafts) full of beer – drinking and rafting – before it became illegal a few years ago. Not that we ever did that, of course. And if we ever did, at least we kept all of the cans and bottles in the ice chest to dispose of properly. No, seriously. We had a few beers in our day. And Mike's Hard Lemonades.
The boyfriends and husbands made sure of that. And when you get three sisters together over a period of that many years, there will be several of them along the way – the significant others. I tried to count them just now and decided to stop. A few times we've invited friends, we've included my two sons (my niece and nephew aren't big enough yet) and their friends, and once we went with our mom and aunt, neither of whom had been on the Rogue and were quite wary, due to the deaths they'd heard about.
We have experienced a few injuries on the Sisters Rafting Trip, none of them as a result of alcohol. A few years ago it rained on the designated day of the trip, which involves reservations and travel time for two of us. We had a husband (Macrina's) and at least one boyfriend on that trip, and we all thought that we'd spent enough of our lives in Oregon to be able to tough out a little rain. Rafting in the rain – yeah! So we got out there, all gung ho, and within 20 minutes decided that this was an ill-conceived idea. Even though it was raining, the river was low that year, and as we rounded a bend and hit a big rock, I, seated on the edge of the raft with my back to the water, didn't brace myself since I didn't see it coming, and flew out of the raft. Like a falling cat, I quickly righted myself just as I hit the water and saw a huge boulder racing toward my head. I stuck my hand out to cushion the blow and smashed my hand between my forehead and the boulder. Momentarily dazed, I felt myself being pulled back into the raft. Completely soaked with no way to dry off in the rain, I sat there shivering for two more hours. Later I noticed that I had broken two blood vessels in my hand. And we all vowed that we would never go rafting in the rain again.
The part we raft is only about three miles long, but it takes three hours to get to the pull out point because we make a couple of stops along the way. There's a suspension footbridge that we used to like walking on, but that is now prohibited. There was a small fork of the river that had a slow-moving area with a rope swing that we stopped at years ago. And there's a huge rock, sort of like an island, that we used to pull over at and jump off of. But our favorite place to stop along the river is a country store/burger joint where we often eat lunch. It's right on the river! And the best part is that they have this old wooden outhouse right next to the chemical toilets that is rigged to make a dummy dressed in long red underwear move inside when someone opens the door. Whenever we have a newbie along on our raft trip, we always make them open the door. And we always laugh.
We always. That's the phrase that surrounds traditions, makes us feel connected, part of a group. It means that there were shared experiences in the past, and there will be more in the future. It means that we laughed together, drank beer, got squirted, jumped off of rocks, and shared all of it with others. It means that no matter where we live or how different we are, we're always sisters. Many people have gone on our annual rafting trip with us, faces and circumstances have changed, a lot of water under the proverbial bridge. But one thing has remained the same, one constant – the Sisters were always there. Sort of like those three mountains. (Because I had to work them in at the end somehow.) Here's to sisters and traditions and all the good that comes with them!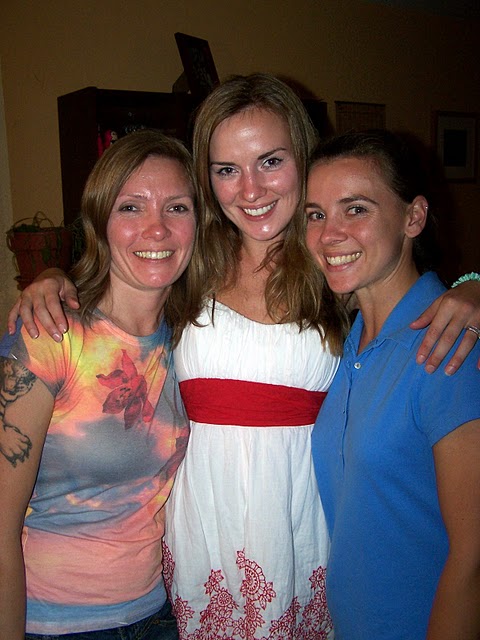 Five years ago at Anastasia's going away party when she moved to Los Angeles. She's the one in platforms.
---
---