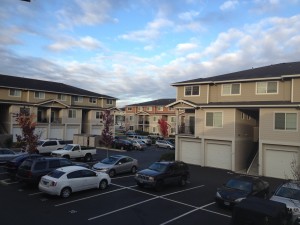 "I don't like it when you say 'special needs' or 'developmental disabilities' about me."
"I'm sorry, I didn't realize that."
"It makes me feel like I'm incapable of doing things."
"I'll do my best not to use that terminology with you. What do you prefer that I say instead?"
After a moment of thought: "Say that I'm a person of limited means."
*
As I write this, I am on day two of a pretty bad migraine. The boys and I have just finished getting over illnesses and dry throats due to two and a half weeks of the central heating system in our new apartment not working properly. The fan blew recycled air out of every vent in every room 24/7 for two and a half weeks. The technician had to make three trips here before it finally shut off, which was yesterday. My computer was not connecting to the internet for almost a week, which is bad because I do a lot of work online from home, and after spending an hour and a half on the phone with Dell's tech support in India, it crashed completely and I couldn't even work offline. Over three more hours and two more calls-to-India later, it was fixed. Apparently this occurred during the peak of Mercury in retrograde.
So yes, the next step in Nigel's transition to adulthood: we have moved into a 3-bedroom apartment, and everyone is pretty excited to have more space. I am happy that all of Nigel's stuff is confined to his new bedroom. Aidan is happy not to have Nigel's captain's bed sitting in the middle of his room. And I'm sure Nigel is particularly happy that no one is constantly tripping over him or his things. (As an aside, I'm also glad that the light never goes out in the middle of my shower anymore.)
Incidentally, three days ago Nigel turned 19. He received a couple of checks for his birthday, and yesterday we went to the bank to deposit them. I have taken him to the bank several times before in the past three years to do this very thing. We walked over to the counter where all the deposit and withdrawal slips are, and I said, "Okay, pretend I'm not here. Just do all the things we've practiced before, and ask me if you have any questions." He stood there, blank look on his face. In a defensive tone he said, "How am I supposed to remember what to do?!" I calmly reminded him that we'd done all of this many times before. "I bet you didn't have to do this when you were 19!"
I refrained from telling him that when I was 19, I had my own apartment, a car, a checking account, a credit card, paid my own bills, and college tuition. I simply said yes, I did, and walked him through the steps for perhaps the ninth time. And so it goes.
What's next for Nigel? As soon as I get rid of this migraine, I will be signing him up for Goodwill's GED program, and he will focus on that for however long it takes. He's been getting out into the community by riding his bike on an almost daily basis and remembering to text me when he leaves the house and when he returns. We're at about a 30% rate of him remembering on his own to take his medication twice a day, despite various methods of helping him to do it on his own. But, as in most situations with a person of limited means, one thing at a time.
*
I told him, gently, that the term "limited means" usually refers to a low financial status (and other things that I know he didn't have in mind). "Oh," he said. I assured him that I wanted to be respectful of his preference and suggested "differently abled," which he vetoed. Finally, in frustration he asked, "Why is it so important to you?" I didn't have an answer for him, other than what I had already said about being respectful. And, just like that, he had made his preference known.