Transition Check-In: Something Between Us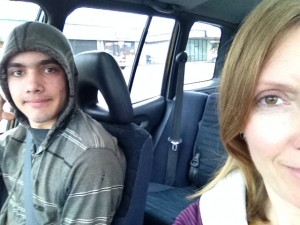 There's a ride at Disneyland that most of us have probably been on – The Haunted Mansion. I loved it from beginning to end, even though the first few times I went on it I was scared (but, you know, in a fun way). I always loved the end of the ride when the projector ghost would show up in your carriage. "Beware of hitch-hiking ghosts!" the narrator would say. My siblings and friends (and later, my sons) and I would sit as far apart as we could to make room for the ghost. We'd lean into him or pat his head.
So, metaphorically, I like to think that we should always leave room for something between us (besides ghosts). Like fun memories. Shared dreams. Phone calls and texts. A strong connection. And love.
*
I was 19 years old when I decided to move into my own apartment. I had a roommate, one of my coworkers at the restaurant where I waited tables, and we split the bills. I was also taking a full load of college classes. My parents did not exhibit much confidence in me when I moved out, and I'm sure they breathed a sigh of relief when a few months went by and I hadn't asked them for any money, when it became apparent that I was swimming and not sinking.
Now, 24 years later, it has been six weeks since Nigel moved into a supported living apartment, and I am just beginning to exhale. Last year at this same time, he moved into a supported living home, a euphemism for group home, and within the first two weeks it was obvious that the move had been a huge mistake, that it was entirely the wrong placement for him for a multitude of reasons. He was back home within two months.
So when plans were being made for Nigel to move into the apartment, there was certainly some amount of concern on everyone's part. His ever-expanding vocabulary belies him, as his emotional age has plateaued at around age 11 or 12, and he requires assistance.  He receives daily support from a local organization called Living Opportunities. They pick him up and take him grocery shopping with his food stamps, they take him to doctor appointments, help him do laundry, and remind him about hygiene and taking his meds. I pay all of his bills out of his Social Security money, for which I am the representative payee. He receives "walking around" money in cash every week, and in a couple of months, we may progress to a debit card. He rides his bike to and from his GED class at Goodwill a few times a week and is doing well with that. Once a week I go to his place to make dinner with him or take him to a restaurant, and on Saturdays he comes to the house to spend the night with his family.
Two weeks ago I discovered that he had used up a month's worth of food stamps in two weeks. His support staff only take him to the grocery store and help him through the process, but they do not tell him what or how much to buy. It pained me to see the bottles of an 8-pack of red Gatorade strewn around the living room, along with the empty red Jell-O cups, Chips Ahoy! bags, popsicle wrappers, and yes, a box of Twinkies. God only knows what he bought and consumed that I didn't see.
So after some by-no-means-gentle admonishments, I was relieved when I discovered that he still had some of the decent food that he had bought with me on his first grocery trip. He had plenty of bread and butter for toast. He had cereal and milk, eggs, carrots and apples. So I told him that he had to use his weekly cash amount to buy healthy food for dinner instead of craft supplies, Lego, parts of his Halloween costume that he has been planning for four months, and Slurpees.
He seemed to understand. The situation was not dire, and I was not going to bail him out. We are now six days away from his next food stamp payment, and he's going to make it. Last week when I went to his place for our weekly visit, I asked him how he felt things were going being in his own place, and in his wonderful, inflection-less voice he said, "Well…I'm learning a lot."
*
Nigel and I don't talk every day (per his request), but we do text. And I find that when I go to see him, there is this unspoken understanding between us. He is calmer, content with his autonomy. I am calmer, reclaiming mine for the first time in almost twenty years. There is of course the parent-child connection that will always be there. But there is something else between us. There's a sense of joint validation that we have come through something together. And while we have a great deal more on this road ahead of us, and at the same time are obviously taking steps in our own directions, that shared experience keeps us connected as we move forward.
I'm sure there will be more debacles similar to the food stamp crisis, more stumbles as he forges his own path. More learning to do. But he will be all right, Twinkies and all.
---
---