When It's Not Okay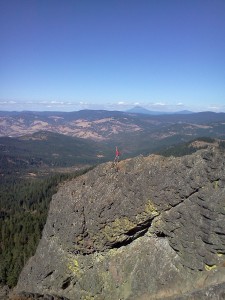 I call my son's name about five times to try to get his attention. He is clambering on top of a 5,900-foot high volcanic plug in southern Oregon called Pilot Rock. Everyone in our group has reached the summit and is walking around on the larger, more easily accessible area, but Nigel has opted to climb over to the more difficult portion, separated from everyone else, and has happily been there for quite some time. I continue to try to get his attention to let him know we are ready to start our descent, but he does not respond, even though I know he is well within hearing range. He is in his own world, verbally stimming. He is 18 now, and autism is alive and well.
*
I haven't posted for a while, and there are several reasons for that. I could delineate each of them, but there's one that stands out.  It's huge and it's overwhelming. And it's not talked about enough in the autism community.  It's usually hidden, brushed under the rug, and denied, when really it's the bear in the room no one wants to poke. Some of us with older children – young adults, even – are reluctant to talk about it outside of our immediate families because we don't want it to affect our children's (possibly soon) future plans and dreams (yes, I'm referring to myself). But maybe that's part of the denial. If I don't talk about it, maybe it will go away.
In the past year my sweet, gentle son has become aggressive. And I will not go into detail except to say that it has sadly gotten to the point where I have had to look at supported living options for him, in the event that he can no longer live with me. I hate writing this. But I feel that I must because I know there are other parents experiencing this, not knowing what to do. Feeling blindsided. Feeling alone. Asking why me?
The first thing to do, if you have not done so already, is to contact your local Developmental Disability services office. This is usually handled by the county, but it may be different in other areas. There may be an evaluation process to determine eligibility, so get started as soon as possible. Once your child is found eligible, you will be assigned a case manager who will work with you to discuss housing options and tell you what services are available, including a behavioral consultation that may help determine the underlying causes of the aggression and what to do in the short term to manage it. I also contacted our local police department to tell them about my son and to determine ahead of time what the procedure would be if he were having an aggressive episode and I needed to call 911.
The second, and equally important, thing is to try to figure out what might be causing the aggression. In Nigel's case, it started about a year ago when we increased his anticonvulsant medication (because he was still having seizures). Each time we needed to increase the dose, he had an aggressive episode, and they continued to get worse. I didn't make the connection at first, but after six months, I finally did. I did some online research – not just chat boards (although those were very helpful) – but also medical trial reports and studies. It appears that my theory was correct. However, I noticed that he had a couple of aggressive episodes not during a dosage increase, and I also noticed several other symptoms that I recognized as indicative of bipolar (since I have it). So I finally got his neurologist to start him on a new anticonvulsant, but it's not yet at a therapeutic level for us to decrease the "bad" one. And I finally got Nigel in to see the county's adolescent psychiatrist just last week. She said that autism and bipolar are often comorbid disorders. And after a thorough evaluation, he received a diagnosis of bipolar and was prescribed a mood stabilizer. Bipolar is often treated with anticonvulsants, but the doctor felt that Nigel's case is severe enough to warrant additional medication. Furthermore, due to some anxiety and OCD symptoms, Nigel had previously been prescribed an antidepressant, which was no doubt causing manic episodes and aggression.
At the time of this writing, we are still very much in med-change mode, and we have not yet been able to decrease the first anticonvulsant, so there's no change to report. But I do have one positive note to end on – that we obtained this additional diagnosis while he is still with me, so that I can get him the medication he needs, and above all, that he can feel better. Because to say that he has not been himself is a huge understatement. I know how awful bipolar has been for me, and the thought that his is worse than mine pains me greatly.
I realize that I may be criticized for writing this post, for exposing my son's problem behavior. But I did not write this post for attention or sympathy, I wrote it for the same reason that I started writing and blogging about autism five years ago: to connect with other parents and help those in the same boat. Our children's aggression is scary, bewildering, and very hard to talk about. But it's often part of what we face as parents of children with autism, and we have to talk about it. We owe it to ourselves, and we owe it to our children.
*
Eventually, Nigel noticed that I was summoning him, and he got down off the rock. But all the way back down the mountain and to the car, he strode on ahead of the group at least a tenth of a mile. He was argumentative in the car. And that night he had one of his worst aggressive episodes ever. I may never fully determine what causes his aggression; most likely there are multiple causes (sounds familiar, I know). But I will do everything in my power to figure it out and help my son. Autism has been our bedmate for quite some time. It's still alive and well – but, with a few adjustments along the way, so are we.
---
---