When the Going Gets Hot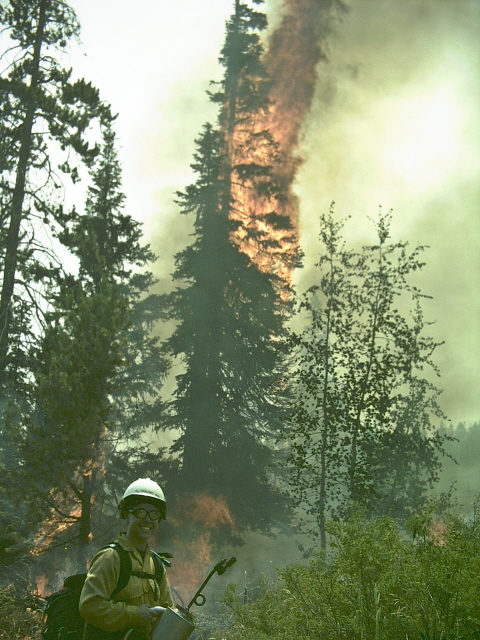 Air conditioners go out in the middle of summer. It's like Murphy's Law. But when it happens in the middle of a 100+ degree heat wave, it feels like a sick joke. Even though it's 102 degrees, I try to get outside and run errands because I can do them in my air conditioned car. And because the grocery store is air conditioned, I go there more often than I need to.
So it's been six days since the air conditioner died at my apartment, and the property management finally has someone coming to put in a new one tomorrow. After work (which does not have air conditioning but mercifully the temperature does not exceed the high 70s because the building is green, as in, ecologically designed), I drive to the grocery store for about the fifth time in as many days. It's a large chain that has its own gas station, and I pull in to fill up. I roll down the window and a furnace blast of air overtakes the car. A middle-aged man comes up to ask me what I'd like (because there is no self-service in Oregon – I think it's a job thing) and I realize something.
This gas station attendant, who is older than I am, is in the heat all day long. There's no air conditioner. There's no ecologically-designed cooling system. All. Day. Long.
And as my tank begins to fill, I glance out across the parking lot and notice a man, a store employee, collecting the shopping carts. When I was twenty years old I did that one summer, and I remember how hot and exhausting it was, wrangling a conga line of carts. But this isn't some guy in his twenties out here. He looks like he's in his fifties, perhaps doing the only job he can find. And it's 102 degrees.
I think of other professions requiring a lot of outside time – construction workers, road crews, military. And the hottest, most grueling job of all – firefighting. When you think of Oregon, you think of rain – the green Pacific Northwest, right? But southern Oregon is considerably dry (compared to the northern parts of the state), and our summers get very hot. Add lightning storms without rain (or other causes), and you get forest fires.
This past week we've had 5 forest fires raging here in southwestern Oregon, and I am proud to say that my sister (in the photo above) is one of the firefighters working to contain them. These are the people who run in when everybody else is running out. They put themselves in harm's way, and even though they are specially trained to do so, horrible accidents happen, and firefighters lose their lives. Our family mourns the tragic loss of the 19 members of the Granite Mountain Hotshot Crew in Arizona who died just five weeks ago. Our hearts are with their families as we support my sister, a member of the Redmond Hotshots of Oregon, and all other dedicated wild land firefighters who bravely carry on.  They love what they do and they do it well. Whenever it starts getting hot here in southern Oregon, I think of them with gratitude and respect. And a good helping of sisterly pride.
---
---